The Baptist Foundation of South Carolina believes that it is essential that we operate with a proven process built on our core beliefs as Christians, while striving to be as academically sound and professional as anyone in the secular market. We know that every dollar entrusted to us is God's money that has been given by Christian stewards for God's purposes.
Our investment process is founded upon three core principles:
Asset allocation (or how the investments are mixed) is the most crucial decision in structuring any portfolio.
Downside protection is important in every portfolio.
Transparency is essential in all areas of investing, including management and associated fees.
One of our main objectives is to achieve the desired investment return of various accounts while incurring the least amount of risk possible. The Foundation reviews the risk (or loss of capital) associated with each asset class as it implements various portfolio allocations. In addition, investments are screened to avoid companies that are involved with alcohol, tobacco, gambling, pornography and abortion related goods and services.
With these core principles and the assistance from an institutional consultant, the Foundation utilizes multiple professional money managers to structure investment portfolios available to churches and ministries. This investment process makes the Foundation as academically sound as any secular institution or endowment providing similar services.
Find out more information about each of the Foundation's investment funds by reviewing the links below:
KINGDOM FUND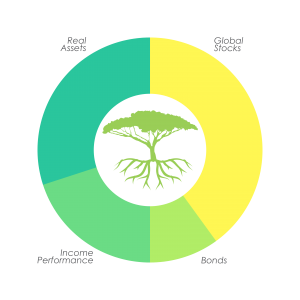 PURPOSE: The Kingdom Fund is designed to produce long-term growth over multiple years and changing market cycles. This strategy desires to outperform annual spending requirements, annual inflation and fees associated with investing, while managing strategic risk. This portfolio invests in stocks, bonds, real assets and alternatives.
"The kingdom of heaven is like a mustard seed…Though it is the smallest of all seeds, yet when it grows, it is the largest of garden plants…"
MATTHEW 13:31-32 NIV
WHO SHOULD INVEST: Investors who are tolerant of market volatility. This is an excellent fit for endowed and long-term funds.
Notes:  Funds are not FDIC insured. Past performance is not a guarantee of future results. Returns are net of money management fees. For your information, the invested funds managed by the Foundation are exempt from registration requirements of the federal securities laws.
HARVEST FUND
STOREHOUSE FUND
MONEY MARKET
Additional information about investing with the Foundation can be found at the links below:
Ministries maintaining investment (agency) accounts may choose to invest totally in one of the individual funds or choose a blend of funds based on individual investment objectives. The investor chooses whether earnings will be reinvested or dispersed directly to them.
The Foundation can assist the church with developing an annual distribution strategy for ministry endowed and cemetery funds.
Endowed and trust funds given to the Foundation to invest for the benefit of a donor's chosen ministry or ministries are invested as prescribed by the Foundation's trustees. Endowed funds in which the Foundation has been entrusted to manage are invested in the Kingdom Fund with an annual distribution policy that provides steady annual payments without encroachment on fund corpus (principal).
Funds to be invested are initially placed in the money market fund until the first business day of the month following the date the funds are received. Monies are then allocated according to the investment allocation for the account.
Management fees generated through investment with the Baptist Foundation of SC are some of the lowest around! More